What is Google Analytics 4 (GA4)?

GA4 has been in beta for a while now and has been available for GA users for most of that time. However, the name Google Analytics 4 is new. Until early last month, it was known as Google Analytics App+Web. Now it's out of beta and Google actively promotes it and even shows you an upgrade button whenever you visit the admin page.
More about whether you should push that button in the admin section of Google Analytics later.
The old name for GA4, App+Web is very descriptive and tells you a bit about one of the main differences between the old and this new version of GA. GA4 can combine streams of Firebase Analytics data coming from Apple or Android apps with Google Analytics data from your website , all in one property.
What are the most important benefits of using GA4?
Cross-platform tracking (web and apps)
If you have a website and an app, and you would like to easily compare or analyze this data in one reporting environment then GA4 is a no-brainer. You can link your firebase tracking with a few clicks with your GA4 property and start collecting data.
This also means you can manage your audiences and track user behavior across your app and web platforms, create segments based on this and do advanced cross-platform attribution analysis.
Analysis
Many of the standard reports in GA4 will be similar to what you're used to, but 'Analysis' is a new reporting section that gives you a completely new toolset to do advanced analysis and create ad hoc funnels based on whichever event or page you want. This tool comes straight from the paid GA 360 premium platform and is now available for free in GA4.
Free Big Query integration
Previously this was only available for paying GA users, mostly enterprise. But with the new GA version, you can export your GA data to Big Query. The integration is free but you still have to pay for any data use. A great improvement from writing your own scripts and adding several custom dimensions to be able to export your hit data.
Improved data model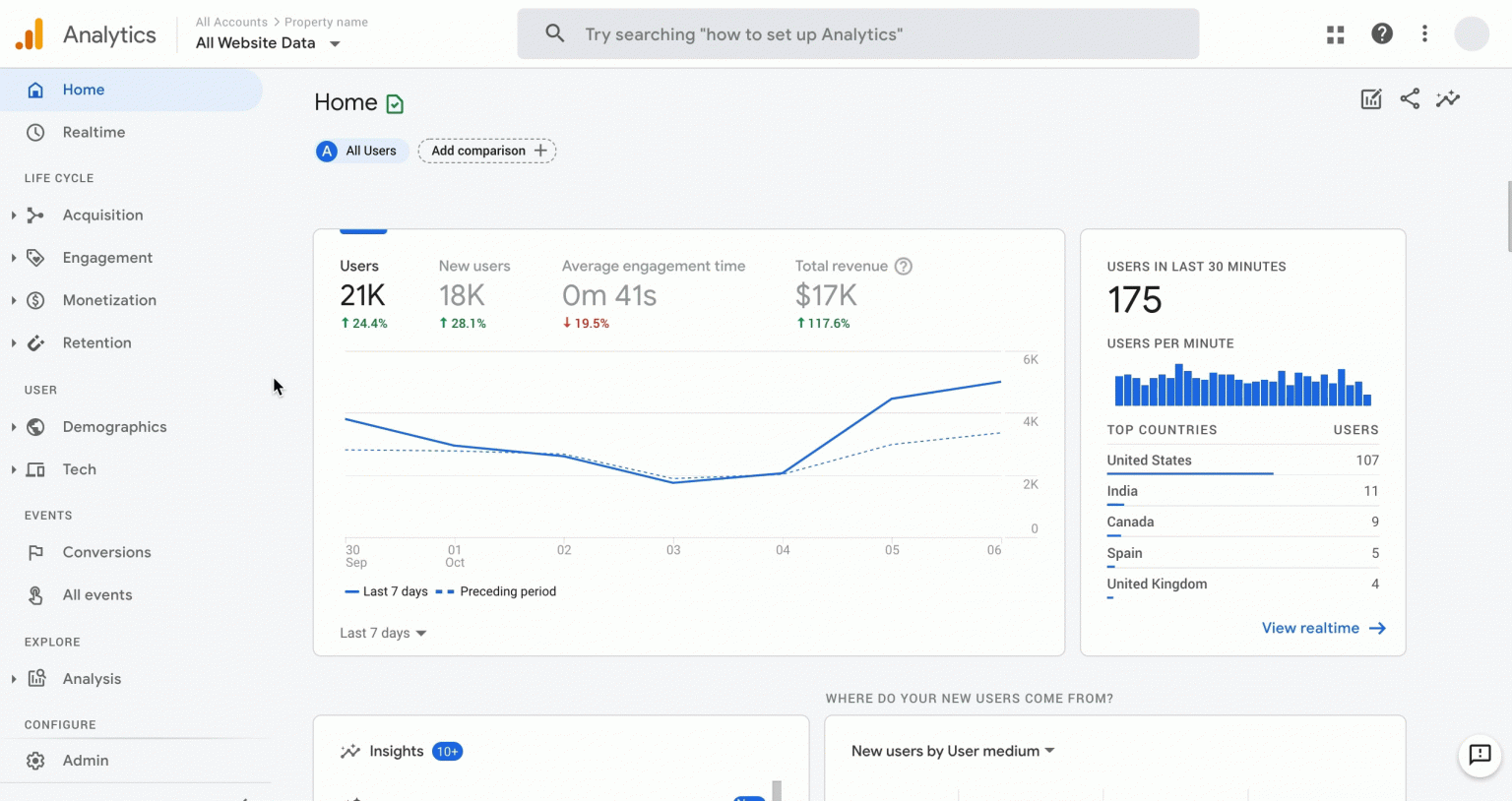 GA4 uses an event-driven data model. I won't go too deep into this but it basically means that the underlying model of page views, events, hits, and sessions has changed and been replaced with a system of events, parameters, and user properties. What this means for you as a user is that it will be easier and more intuitive to create and analyze reports. Data will be also more reliable and exact as implementation is more straightforward.
Purchase Probability and Churn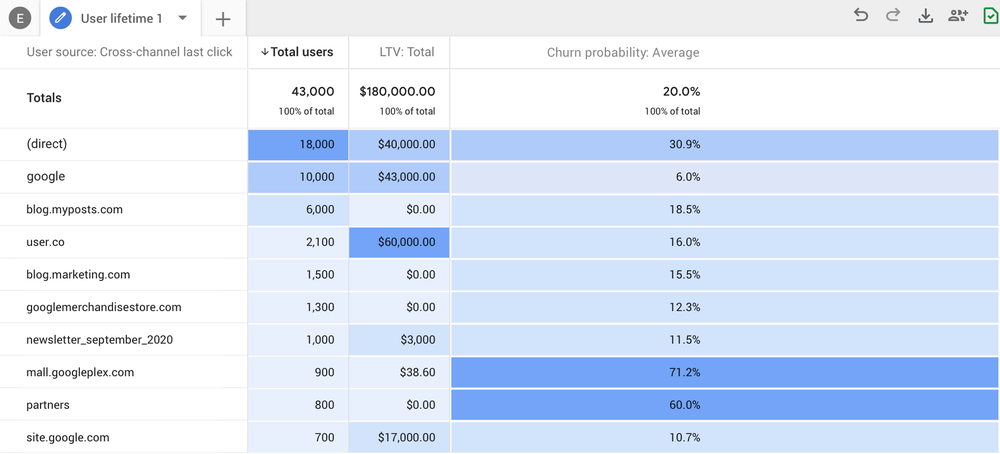 GA4 has a new feature that allows you to group users into audiences based on the probability that they will make a purchase or churn within the next 7 days. These probabilities are based on machine learning and the audiences can be used for remarketing in Google Adwords or in reports.
... and what's missing in GA4?
At Google, they're currently working hard on adding new features and standard reports to the GA4 property. But there's still a way to go, and there will be some differences that are here to stay. These are mostly because of the different data model used in GA4.
I.e. they've recently added e-commerce reporting but there are slight differences between how the reports in GA4 and the previous GA work. Views have also disappeared and custom dimensions are now parameters and properties.
Going into detail would require a complete article by itself, but you should keep in mind that because of the completely different data model, reporting and some familiar analysis techniques that you might use will work in a different way.
However, these changes are made on purpose and the new data model makes for more flexible reporting which will benefit you in the long run.
Should you move to GA4?
Yes, but... While it is certain that Google will at some point discontinue the old Google Analytics, but in our opinion, at this moment GA4 isn't completely matured yet. This specifically reflects in the documentation which isn't complete yet and in the changes and additions to reports in GA4 that are still being made.
For now, we recommend you run both properties separately from each other as they both have their benefits. This transition period will give your new GA4 property some time to collect historical data, your new GA4 property won't have any of your valuable historical data, it`ll start fresh. Meanwhile, this will also give you and your team the time to get comfortable with the new type of tracking and reporting that GA4 offers and prepare the transition.
How To Move To GA4
So, what does the upgrade button do? The easiest way to move to GA4 is to click that upgrade button that you've probably already seen a couple of times. Clicking it won't change your current GA setup. What it does it create a new GA4 property based on the configuration of your current property.
Every type of setup needs a bit of additional configuration. If you're using gtag.js to track your traffic you have to link existing tracking with your new property and don't have to do anything after that. Your events will be migrated automatically but there are a few reasons why you might want to rework your event naming.
If you use Google Tag Manager (GTM) you will need to create a configuration tag and add new tags to your existing event triggers.
Custom dimensions with GTM and gtag.js will keep working but require some configuration in the GA4 property. Due to the changed data model custom dimensions are changed into properties and parameters and for this reason, it is recommended to evaluate your current use of custom dimensions.
If you use any other, older, tracking besides gtag.js or GTM it's recommended you update your tracking method and start using Google Tag Manager. At Three Ventures we've already been working together with clients for a while to help them migrate to the new GA4 property. This migration process can be complex and influence your analysis and reporting in unexpected ways. We understand how important your data is, and we`ll be glad to assist you in this process. Both with technical expertise in implementation and ensuring your data quality and reporting capabilities.