Key Benefits of Migrating From Adobe Analytics to Google Analytics
They are
Reduced Costs
Third Party Integrations
Less Support Needs
Flexibility in Reporting & Analysis
Democratized Data Access
Reduced Cost:
Migrating to Google Analytics from Adobe Analytics comes with financial benefits, namely a reduction in costs associated with each platform. Adobe can cost companies in excess of $100,000 a year, with increases expected fur resources like the Adobe Customer Journey. Google Analytics 4 Standard is free, with a processing limit that results in sampling via the interface. You can work around this sampling limit, however, by importing your data directly to a data warehouse like BigQuery, bypassing the processing and sampling limitations and avoiding the need for a Google 360 license.
Adaptive Third Party Integrations:
Both Adobe and Google offer a wide range of data connectors to 3rd party tools. But, that experience requires the data to be stored and displayed within their own reporting. By combining 3rd party data into a data warehouse, you control where that data is stored, how it is managed and where to send it for reporting and dashboards.
Less Support Needed:
Adobe Analytics requires specialized personnel to maintain tagging, metadata, versioning, user access and updates to reporting configurations. There are fewer people in the world with this experience. Google Analytics requires less tagging and platform support when compared to Adobe. While data warehouses require regular maintenance, more of these skillsets exist, with cross-over skills available through development and IT management teams.
Increased Flexibility for Reporting and Analysis:
The future of data analysis and reporting is SQL and machine learning models. Having data in a data warehouse enables connections to the tools of your choice for this type of analysis
Democratize data across the organization.
Access to Google Analytics is easier to deploy for more people, increasing the number of people with access and facilitating adoption. Navigating Google Analytics 4, while it is not without its own UI issues, is still easier than Adobe Analytics. Less training is required to learn key Google Analytics 4 reporting and analysis functions than Adobe Analytics.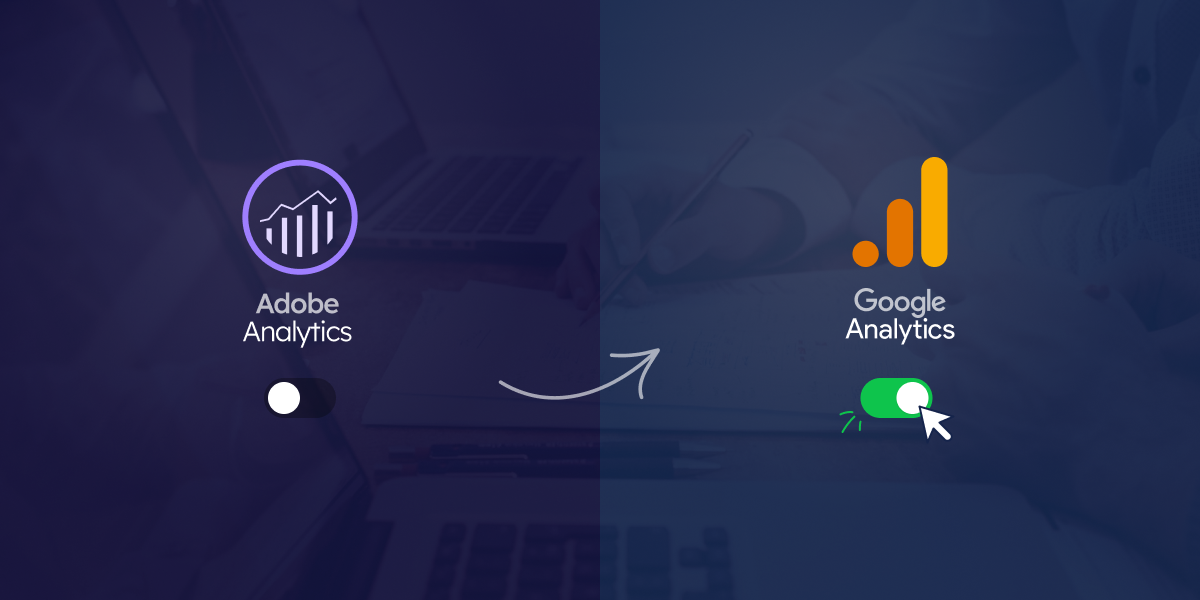 Migration Scope Areas
The process for migrating from Adobe Analytics to Google Analytics has several steps. And, while every migration is slightly different, most feature the following steps:
STEP 1 - Translate the Adobe SDR into a measurement planning document for Google Analytics
The Adobe SDR (Solution Design Reference) provides the blueprint for your analytics implementation. It translates what data is needed (for the business) into the variables for Adobe. Armed with the SDR, you create a similar document using Google Analytics dimensions, events and metrics. This new document serves as the roadmap for Google Tag Manager, Google Analytics and BigQuery implementations going forward, during your migration.
Key Adobe Implementation Items Needed for Migration
Evars
Props
Current Tracking Code
Marketing Pixels
Custom Events
Tag Management Implementation
Campaign Tracking Map
Other Additional Data Needed
Google Ads
Social Data
CRM/Ecommerce Data
Customer Segments and Personas
It is also recommended that you meet with key stakeholders to define any required additional data, not referenced here. Examples are any other Adobe Experience Cloud products which are currently in use. It will be very important to define how you'll replace these in their current operational workloads.
STEP 2 - Developer and IT Support
Including the development and/or IT teams is critical to a successful migration. There will be changes to site code and configuration, additional data layers created or changes to back-end systems to support the needs of Google Analytics.
STEP 3 - Export Adobe Data
You'll want to retain the historical data from Adobe Analytics and marry that data with Google Analytics for reporting purposes. Downloading everything in its raw form can take weeks and is not always necessary. Instead, identify what specific types of data is needed – user segments, events, metrics, etc.,– along with the time periods, and focus on these specific date sets for download and capture It is also important to consider the timeframes you;ll need for your data.. Viewing data aggregated at a monthly level is usually sufficient. But, if your teams want to view data weekly or daily, communicate this need early in the process as this granular perspective could take longer to download. Once downloading is complete, that data is stored in the cloud via a data warehouse and paired with new Google Analytics data. More on that coming next.
STEP 4 - GA4/GTM/BigQuery Setup
There are three key elements to making your Google Analytics implementation successful and meaningful for the long run: Google Tag Manager, Google Analytics 4 and BigQuery.
Let's take a look at the role that each of these components play.
Google Tag Manager: A system for managing the tags on your site. It's a small bit of code that sits in your development layer of your website or application. It interacts with a web-based system and allows your team to add or update tags without the need to change development code every time. Google Tag Manager performs a critical role in your Adobe Migration in that it is set up to "listen" for all metrics, conversions and more and send that data, as it occurs, to Google Analytics.
Google Analytics 4: The launch of Google Analytics 4 two years ago shifted the data collection model from relational (based on tables) to event (based on events). Adobe Analytics and Google Analytics 4 share the same, event-based data model. With GA4, since everything is considered an "event", the data is more accurate, is collected more consistently and can have additional data, called parameters, associated with each event, like purchase value or customer type.
BigQuery: Google offers BigQuery as a data warehouse/storage platform which connects directly to Google Analytics. The cost to store and query data in BigQuery is inexpensive; most of our clients pay less than $10 a month for the service. The biggest benefits of BigQuery is the ability to own and manage your own data. You decide what data gets stored, deleted, etc. It also enables you to combine data sources, like e-commerce or paid ads data, into one place for improved analysis. It comes standard with powerful machine learning tools used for modeling, attribution and predictive analytics.
STEP 5 - Reporting and Dashboards
We recommend using Google Analytics 4 when performing a quick analysis and when investigating broad trends or anomalies. We also recommend using GA4 when examining short timeframes (less than 14 days). It's also recommended for examining only Google Analytics data, not combined with other sources. For all other scenarios we highly recommend setting up a flexible/adaptable business intelligence tool like Tableau or PowerBI. This tool allows you to seamlessly combine other data sources like ecommerce or ads platform data with Google Analytics. Since we are storing your data in BigQuery and you have access to everything, this BI tool will be your source for longer term analysis and historical data reviews.
STEP 6 - Testing and Quality Control
The final step in any migration process is testing. Testing should begin once the new Google Analytics properties are receiving data. You want to ensure that Google Tag Manager is sending data to Google Analytics correctly before you send that data on to BigQuery. You will also audit the data once imported to BigQuery to confirm that it's being stored and sorted as intended. The final check is within the BI Tool of your choice (Tableau or PowerBI) to expose what discrepancies, if any, are being reported in your data in Google Analytics vs. your BI Tool.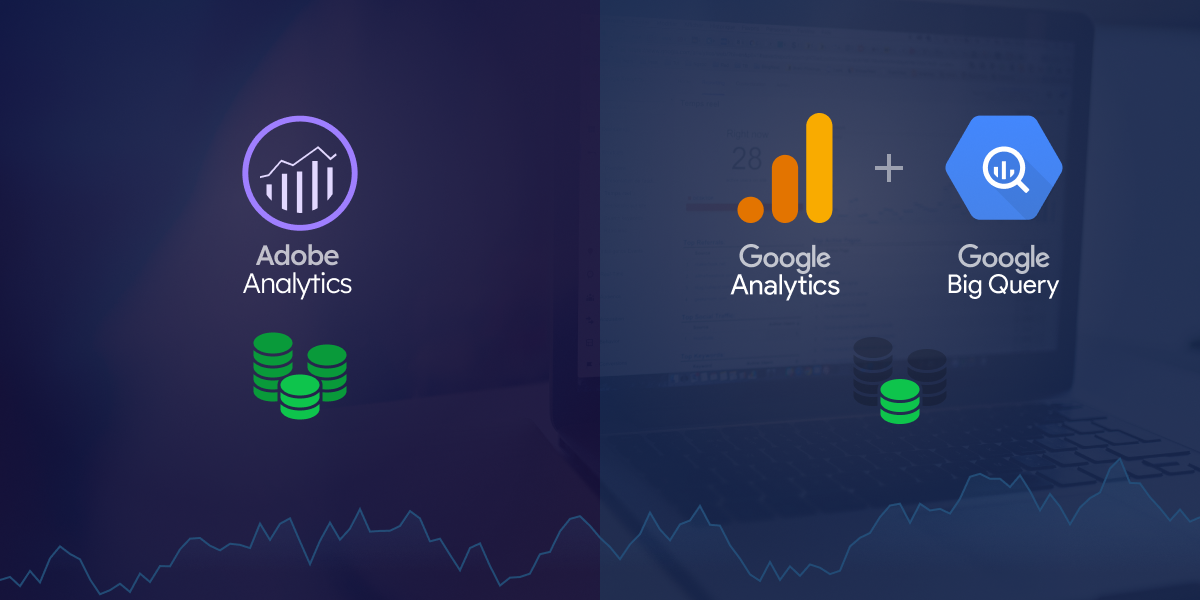 Is This Migration Process Worth It?
The time and cost involved with migrating from Adobe Analytics to Google Analytics should not be minimized. As you can see from the migration process above, there are multiple steps along the way and everything needs to be set up correctly for all of it to function as needed.
If the process is executed correctly, it will produce a number of key benefits that make the migration process worth it, including:
Lowered monthly costs
Democratized data
Increased flexibility to integrate your data with any API or tool without having to buy another subscription
Not having to rely on a limited number of skilled Adobe Analytics consultants or internal staff members every time you need something done.
Thinking About Migrating From Adobe Analytics To Google Analytics?
Reach out to our team to schedule a no hassle, no stress, complementary one hour call to review your project needs and approach.
You'll get to talk directly with our senior consultants, not a salesperson who doesn't have many technical skills to help you answer tough questions about your project.