Enabling Attribution Projects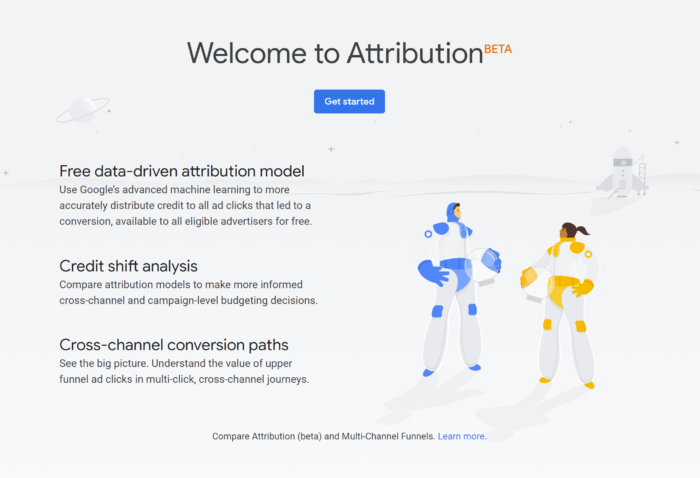 Before we dive into this new feature, we recommend everyone enable this project today, because it can take up to 30 days to have a meaningful report built for you by Google. Follow the steps below:
In your Google Analytics account, click on the "Attribution" beta link on the left side column near the bottom (or click on this link).
Click on "Get Started".
Select the account, property, and view you want to connect, then click Next.
Select the conversion type you want to enable in the dropdown, choose the one most important to your business, and you can always add more conversion types later.
Click complete setup. You will see a project created in your property listing over the next few days, and data will be collected by Google over the next month.
When you enable the feature inside Analytics, Google delivers an attribution report to show which channels are contributing to conversions.
Three Ventures Clients, we can enable this feature for you at no charge, just drop us a line to get started.
What Attribution Projects Does For Your Data

Attribution is about assigning credit to marketing channels for their influence on conversions, like purchases or a webinar signup. Marketers want to know which channels have the most influence to know what's working and what's now, so they can continue spending money on that area and spend less in other areas, and to justify the spend they have now at budget time.
Google's Attribution project does some good things for you out of the box. It shows which channels and the combination of channels are having influence over your conversions (Like the multi-channel funnels reports in Google analytics). The report lists out different combinations of channels based on the conversions produced, or revenue total, depending on which one you select.
The attribution reports available and their functions:
Conversion paths - which combinations of visits from what channels lead to the most conversions?
Conversion lag - how long in days does it take to convert from the first session?
Conversion path length - how many channels do converters use when converting?
Model comparison - where you can select multiple types of attribution models to compare to each other.
Some of the key attribution features: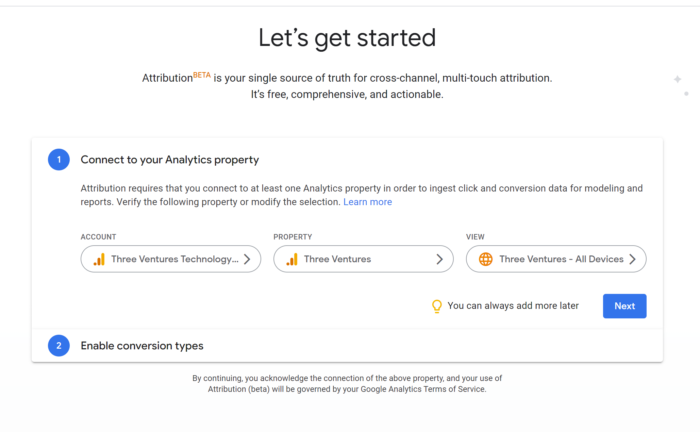 You can select multiple goals, across multiple properties

Select any goal across multiple properties to build into your model.
Some goals may not be available for technical reasons.

A new attribution model is here! "Data Driven Attribution":

Rules-based attribution models (Same as the original attribution modeling tool).
Data-driven attribution uses a Google produced algorithm to compare your channels' influence on conversion and gives you a projection of which channel it thinks had the most influence.

Ability to apply filters to attribution reports:

For example, if you only want to see influential channels where at least two touchpoints contributed you would select 'greater than or equal to' and '2 touchpoints'.
What We Think So Far: A Good Start, But...
The Good: This feature is a positive step in the direction of attribution modeling for teams that have not done attribution work to date. This report will give you a good idea of what channels are influencing conversions, and lets you play around with different attribution models to see which make the most sense for your business.
But: you'll need to make sure your campaign tracking and channel groups are setup correctly for this new tool to work well for you. There's no ability to create custom channel groups like you currently can within Google Analytics for multi-channel funnels and the model comparison tool.
Ready to see your attribution data?
We think this feature will improve and expand over time and it is worth keeping your eye on this report on a regular basis. Reach out to our marketing analytics team for a complementary review to find some hidden nuggets of attribution for prioritizing your budgets and efforts for 2020.