Time is your sales team's only finite resource, which makes it your most valuable one.
Saving your sales team's time through automation impacts the business by increasing efficiency, but also opens up new opportunities to invest that time in more impactful ways. What could your team accomplish with a few more hours per week? Where might those accomplishments take your business?
HubSpot understands this. That's why they've invested heavily in developing tools to help sales team's automate everything from emails to meeting scheduling. Let's dive a little deeper into those features.

Sales Outreach Automation
Sales outreach is the emails and calls that your sales team makes to prospects. Outreach can be one of the most time consuming parts of the sales process, especially if your business has a high volume of leads, requires many emails per lead, or depends on personalization in every step. HubSpot can help with sales outreach in a few key ways:
Email Templates. Templated emails save your team from having to draft and type repetitive outreach emails. Templates can be sent right from your salesperson's email address and allow for personalization with tokens automatically sourced from their HubSpot contact or company properties. Templates also allow for advanced reporting and analytics so that you can see exactly what outreach resonates with your customer.
Snippets. Typing out answers to repetitive questions can also be a waste of time. Snippets help with those sentences or paragraphs that your team types out all the time. These short, reusable text blocks can be used within HubSpot on contact, company, deal and ticket records or in email templates.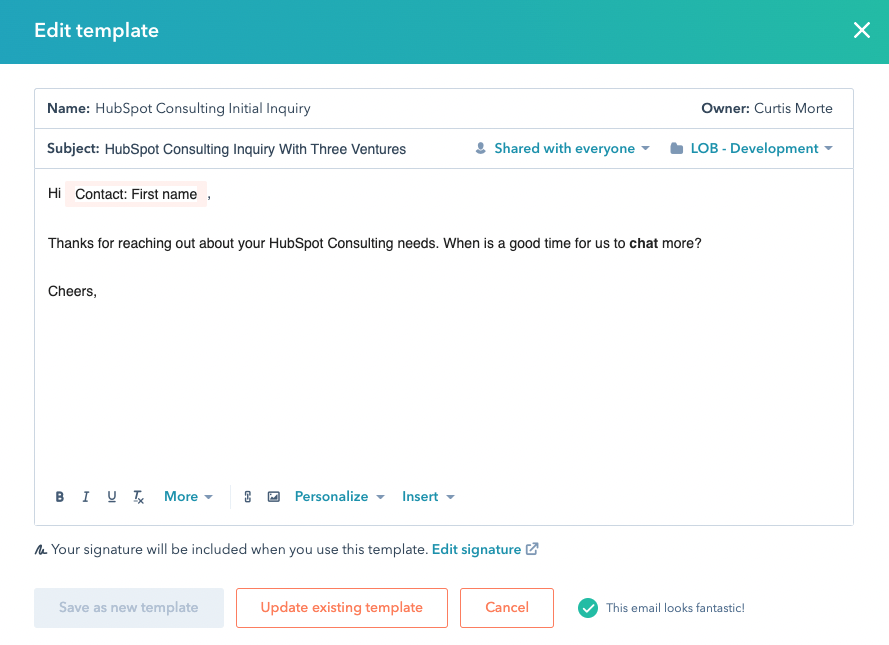 Automation of Prospects Follow-ups
It's usually not enough to send a single email or leave a single voicemail with a prospect. But automating follow up can be complex and time consuming, often leading to prospects being forgotten and things falling through the cracks. That's why HubSpot has developed sequences.
Sequences are the most powerful tool for automating sales follow up. They allow you to queue templated sales emails and follow-up tasks for prospects. With sequences, timed emails can be sent without the salesperson having to spend time with each outreach cadence. Contacts who reply to an email in the sequence will be removed from receiving further automated emails so that your sales team can follow up in a more personalized way.

Who receives sequences?
The simple answer is that any contact in your HubSpot CRM can receive a sequence. But there are several ways that you can enroll those contacts in sequences.
Manually. You can manually enroll each contact individually. This is often helpful for salespeople who are prospecting individual leads. You can also enroll up to 50 contacts at a time manually by selecting them within a list.
Automated Enrollment via Workflows. You can also set up HubSpot to automatically enroll a contact who fills out a form, visits a page, or completes some other criteria, significantly increasing efficiency. Automated sequences give the prospect a personalized, timely follow up while not requiring any salesperson time.
How can I customize sequences?
HubSpot has developed many customization options for sequences including setting the time of day that emails are sent, whether they can be sent on weekends, whether replies should be threaded, etc.
One of the most useful customization options of sequences is the ability to unenroll all contacts at the same company from this sequence when a contact from that company replies to an email in the sequence. This prevents the problem of reaching out too many times to a company that is either progressing with the sales process or has indicated that they aren't interested.

Scheduling Meetings
Scheduling meetings can be extremely time consuming.
Your schedule is free at 2pm, but the prospect's schedule doesn't open up until 4pm. What about Wednesday? 10:30am won't work.
Before you know it, you've sent four or five emails back and forth without succeeding in scheduling a time.
HubSpot's scheduling tool streamlines this process, allowing a prospect to view your availability and book time directly on your calendar. As prospects book their meetings, HubSpot has customizable features that allow you to collect information and even payments from them.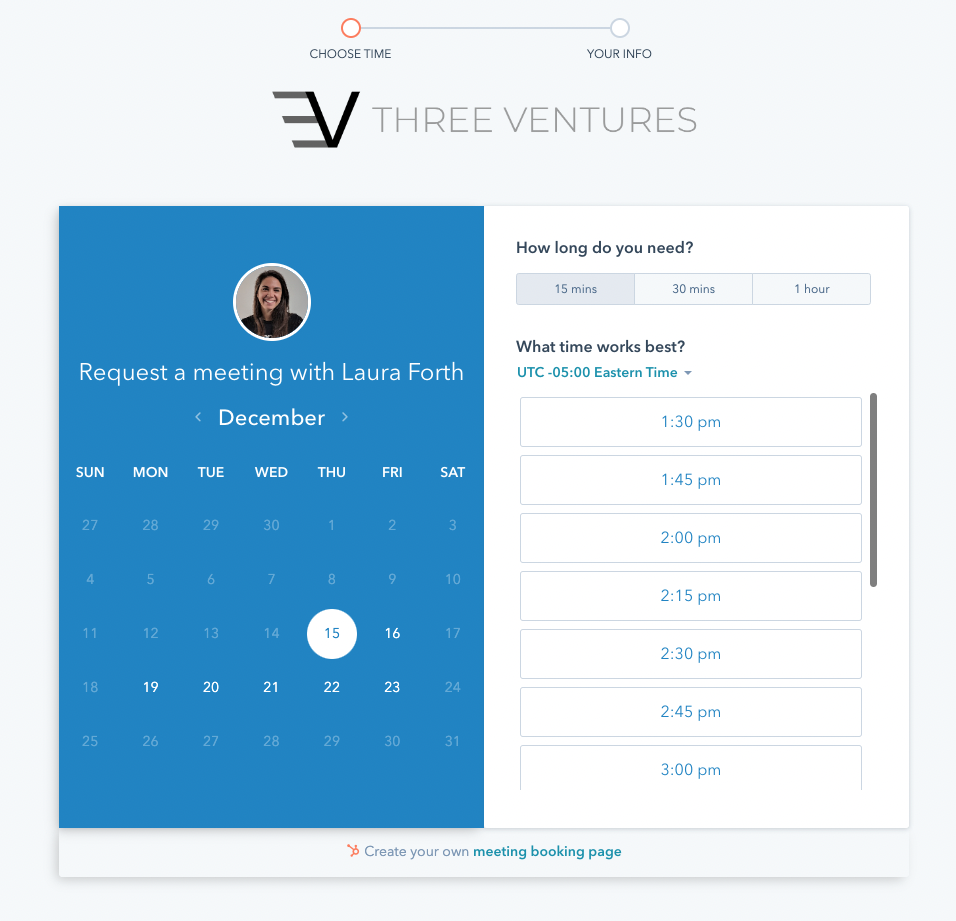 How can I customize scheduling links?
HubSpot's scheduling tool has many customizable features including:
Setting meetings with groups or assigning a meeting "round-robin".
Automatically populating Zoom, UberConference or Google Meet links.
Cancellation and rescheduling options for prospects.
Setting timezone and which hours you are available.
Recording Activities Automation
Recording activities is one thing that salespeople struggle with the most, and it's easy to see why. Recording activities is time consuming and difficult to see the value in doing in the moment. But successful organizations know that recording activities is essential to be able to report on progress, understand a full picture of a prospect, and learn more about your sales process.
That's why HubSpot made recording activities easy. In addition to their manual recording options for calls, emails, meetings, notes, LinkedIn messages, WhatsApp messages, SMS messages, and mail, there are several automated ways that these can be recorded:
Logging emails. When sales people connect their email app and download the browser extension to HubSpot, emails sent from their email client will automatically be logged and tracked in HubSpot.
Logging calls. When sales people make calls via the browser in HubSpot, they are automatically logged, recorded, and transcribed. (Some laws affect automatic recording.)
Logging meetings. When sales people connect their calendar app to HubSpot, meetings with contacts in the HubSpot CRM will automatically be logged on that contact's record.
Logging interactions on other platforms. Integrations with LinkedIn Sales Navigator, WhatsApp, and other tools allow you to pull interactions in those platforms directly into HubSpot. See the HubSpot Marketplace to learn more.
Setting Tasks
Tasks help move the sales process along and keep salespeople organized, but setting tasks can sometimes be as time consuming as completing them. HubSpot has a few ways to automate task-setting to ensure that your sales team can stay focused on the prospect.

Tasks from Sequences. Sequences, which we discussed above, can set tasks for salespeople at certain times either within HubSpot or in one of the integrated tools you're using.
Tasks from Deal Stages. When a deal moves into a new stage, you can configure your pipeline to automatically set tasks based on that deal stage.
Tasks from Forms or Marketing Emails. When a prospect fills in a form or interacts with a marketing email, you can set a task automatically for a salesperson to follow up.
Tasks from Workflows. Workflows can be triggered by numerous changes in your HubSpot contact, company, or deal objects, and allow you to set tasks based on those changes.
Using Task Queues
HubSpot also has a feature for completing tasks more efficiently called "Task Queues". When your salespeople have many tasks to complete, they can add those tasks to a queue. Initiating the queue will bring them to the contact record of the first task. Once complete, they will automatically be taken to the second task without having to navigate back to their tasks list.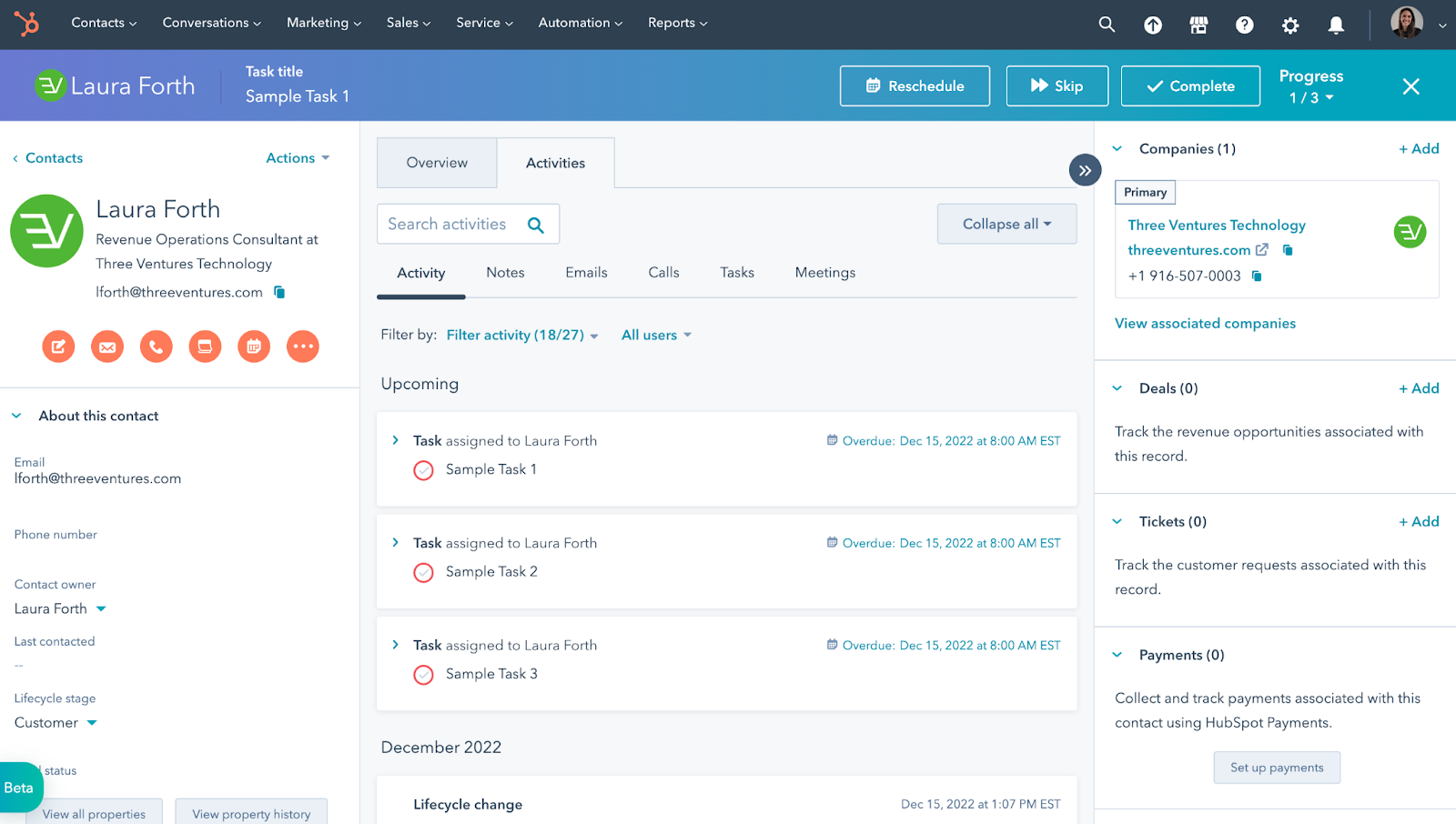 Bottom Line: Automation Helps Your Team Sell More
By reducing the amount of time your team spends drafting emails, typing answers to repetitive questions, following up, scheduling meetings, recording activities, and setting tasks, you're giving your team valuable time back that they can invest elsewhere in the business. That's time that they can use to investigate the prospects in greater depth, personalize their pitch decks, innovate their sales strategies, and so much more.
Automation is just the first step on the journey to closing more, closing faster, and closing larger deals. In order to sell more, sell faster, and sell bigger, you'll need to understand where to reinvest your time for the greatest impact. Best practices in marketing, demand generation, sales process, data capture, and strategic business intelligence will help your sales team get closer to closing.
Reach out to our team

if you're looking for help with automation or sales in HubSpot. You'll get to talk directly with our senior consultants, not just a salesperson who doesn't have many technical skills to help you answer tough questions about your project.